Spring Yard Tips For Home in Middle Tennessee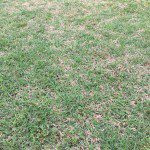 As April showers bring May flowers, they most certainly awaken weeds and grass! Your yard may go from a dormant, easy to maintain area to an ugly beast in just a couple of days. You may wonder what quick and easy things you can do to make your yard have beautiful green grass that your neighbors will envy. We don't guarantee a golf course style grass but we can offer tips to make your yard more desirable! Check out our Spring Yard Tips and make your life easier.
[list line="no" style="style4″]
Sounds easy right? Not always the simplest part of our Spring Yard Tips. Make sure you start the year off right with freshly sharpened blades on your mower. When you mow, have your blades set to 2-3 inches off the ground for best grass height results. As you travel around your yard; go in different patterns to create grids or crop circle type creations. They will look cool and keep your neighbors guessing. This will also keep the mowing interesting! As the wether gets hotter, increase the grass length to about 4 inches in length in help conserve moisture. That may mean you need to mow more often but will keep other costs down.
[/list]
[list line="no" style="style4″]
Should you water during the day or evening and how much is too much? As the heat of the afternoon increases, water in the morning for best saturation rates. The problem with too much water or irrigation is the increase of the likelihood of disease. You may mean well; however over watering is a huge problem we suggest you avoid. An automatic irrigation system is the most effective way to keep grass well hydrated without inviting disease. We found that actively growing Fescue takes only 1-2 inches of water per week.
[/list]
[list line="no" style="style4″]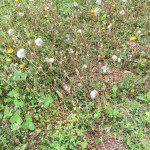 We definitely don't mean feed your weeds in our Spring Yard Tips! You do need to fertilize and feed your lawn and get rid of your weeds. Your first steps for success are proper mowing and watering. Then, a herbicide to help reduce the weeds. It is recommended to fertilize your lawn twice per year; Spring and Fall. Follow the label for best results on different types of weed control.
[/list]
[list line="no" style="style4″]
This part of our Spring Yards Tips can be made fun. There are slip on aerators that go on your shoes. You can easily aerate while walking with your mower around the yard. Aerating will allow water and air to your compacted lawn. During the warmer months, your lawn may get heavy use; especially traffic areas. It is important to aerate to loosen up that compacted dirt and allow water to get to your lawn's roots.
[/list]
[list line="no" style="style4″]
Getting Rid of Dandelions-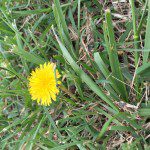 Dandelions have a use but not for your lawn. How can you get rid of them organically? Mow them often and do not let them get to the white fluffy seed stage because then you will just have more dandelions next year. Another way to get rid of them is to pull them out. It is important to get the root as well; or else they will just regrow. One less common method s to poach the dandelions. Seriously! Add boiling water for 2 or 3 days on these pesky weeds and they will slowly be killed.
[/list]
Having a beautiful lawn may or may not be important to you. We think it's our choice. But remember the mess you have will affect your neighbor's lawn too. It is likely your grass touches theirs and you will be sharing weeds before long. It is similar to unwanted pests like ants and cockroaches!
We hope these Spring Yard Tips will get your lawn looking good in now time! Looking for backyard beautification ideas? Here's another article!
Need help with pest control? Let us help you! Call 615-220-1933 for our highly trained and professional pest control technicians. Free quotes!
Garden Guides provides some other yard ideas!