Tennessee Ticks

Rocky Top will always be home sweet home to me,Good Ole Rocky Top, Rocky Top Tennessee. Lyme Disease, Zika, and West Nile are all carried by Tennessee Ticks. I've explored some facts about ticks and listed them for us below.
Types of Ticks
Tennessee has three primary types of ticks. The American Dog Tick, The Lone Star Tick and the Brown Dog Tick.
The American Dog Tick is brown with Silver and they 3-5% of them carry Rocky Mountain Spotted Fever. They come out in the spring and summer.
The Lone Star Tick is smaller than the American Dog Tick and the female has a white spot on her back that gives the species it's name. You may have heard of seed ticks. These small ticks are the larvae of the Lone Star Tick.
The Brown Dog Tick is actually more of a red color and looks a lot like the American Dog Tick. It is smaller and does not have any markings. The brown dog tick lives indoors and is found in areas that your pet frequents.
Building Fences
The best way to keep ticks out of your house and off your person is to have a fenced yard. Keeping stray animals out of your yard will keep ticks from migrating to your yard from their hosts. If you have pets make sure you treat them regularly for ticks. Check them daily and wash their sleeping quarters and toys often. Make sure you bathe your animals as well.
Tick Removal
I've read that ticks don't like the smell of gasoline and that the smell can be used to remove a tick. I've read that rubbing alcohol can suffocate a tick and that petroleum jelly can be used to kill ticks. This is all untrue. The only way to remove a tick is with tweezers.
To remove the tick get the tweezers as close to your skin as possible. Once you have your tweezers around the base of the tick, as close to your skin as possible, you should pull in an upward motion. Once the tick is removed dispose of it immediately and wipe the infected area with alcohol.
Tennessee Ticks carry disease that can cost thousands of dollars to treat. The best treatment is prevention. Give us a call for a free estimate.
Contact Us
Absolute Pest Control is dedicated to making your home safe for you family. If you have a question about fall pests or any other pest problem, please call us at 615-220-1933 or click HERE to email us.
Spring Yard Tips For Home in Middle Tennessee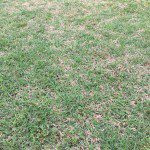 As April showers bring May flowers, they most certainly awaken weeds and grass! Your yard may go from a dormant, easy to maintain area to an ugly beast in just a couple of days. You may wonder what quick and easy things you can do to make your yard have beautiful green grass that your neighbors will envy. We don't guarantee a golf course style grass but we can offer tips to make your yard more desirable! Check out our Spring Yard Tips and make your life easier.
Sounds easy right? Not always the simplest part of our Spring Yard Tips. Make sure you start the year off right with freshly sharpened blades on your mower. When you mow, have your blades set to 2-3 inches off the ground for best grass height results. As you travel around your yard; go in different patterns to create grids or crop circle type creations. They will look cool and keep your neighbors guessing. This will also keep the mowing interesting! As the wether gets hotter, increase the grass length to about 4 inches in length in help conserve moisture. That may mean you need to mow more often but will keep other costs down.
Should you water during the day or evening and how much is too much? As the heat of the afternoon increases, water in the morning for best saturation rates. The problem with too much water or irrigation is the increase of the likelihood of disease. You may mean well; however over watering is a huge problem we suggest you avoid. An automatic irrigation system is the most effective way to keep grass well hydrated without inviting disease. We found that actively growing Fescue takes only 1-2 inches of water per week.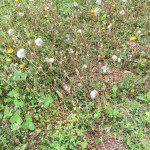 We definitely don't mean feed your weeds in our Spring Yard Tips! You do need to fertilize and feed your lawn and get rid of your weeds. Your first steps for success are proper mowing and watering. Then, a herbicide to help reduce the weeds. It is recommended to fertilize your lawn twice per year; Spring and Fall. Follow the label for best results on different types of weed control.
This part of our Spring Yards Tips can be made fun. There are slip on aerators that go on your shoes. You can easily aerate while walking with your mower around the yard. Aerating will allow water and air to your compacted lawn. During the warmer months, your lawn may get heavy use; especially traffic areas. It is important to aerate to loosen up that compacted dirt and allow water to get to your lawn's roots.
Getting Rid of Dandelions-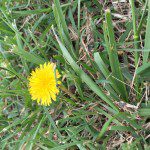 Dandelions have a use but not for your lawn. How can you get rid of them organically? Mow them often and do not let them get to the white fluffy seed stage because then you will just have more dandelions next year. Another way to get rid of them is to pull them out. It is important to get the root as well; or else they will just regrow. One less common method s to poach the dandelions. Seriously! Add boiling water for 2 or 3 days on these pesky weeds and they will slowly be killed.
Having a beautiful lawn may or may not be important to you. We think it's our choice. But remember the mess you have will affect your neighbor's lawn too. It is likely your grass touches theirs and you will be sharing weeds before long. It is similar to unwanted pests like ants and cockroaches!
We hope these Spring Yard Tips will get your lawn looking good in now time! Looking for backyard beautification ideas? Here's another article!
Need help with pest control? Let us help you! Call 615-220-1933 for our highly trained and professional pest control technicians. Free quotes!
Garden Guides provides some other yard ideas!
Summertime can be a frustrating time to keep your grass green. Most people are not experts in growing grass and will install synthetic grass
to make the job easier? The extreme heat and lack of rain can turn your plush, green lawn into a crunchy, brown, neighborhood embarrassment. One of the tricks to save you from the brown grass is consistent maintenance. Don't over fertilize, over water, or mow too short. Our article below will offer some suggestions to keep you grass green during the summer months. Growing grass should not be hard.
Schedule fertilizing. Do not over fertilize your lawn in an effort to make your grass green. A large amount of fertilizer will encourage rapid growth of grass and weeds. The over abundance of fast growing grass leads to disease and insect infestations. Fertilizing twice, once in Spring and once in Fall, will provide the best growth for your lawn. Do not use a high nitrogen formula fertilizer. The high levels of nitrogen will encourage fast growth but not healthy growth.
Mow long. Set your mower to the highest setting (3 1/2 – 4 inches). Keeping taller grass helps you with weed control. The tall grass blocks the sun from the weeds. Another benefit of tall grass is that it helps the soil stay moist. Short grass allows the sun to dry out the soil. Deeper, moist soil encourages grass to root down further. That is another drought fighting benefit. Deep rooted, growing grass will live longer through the hot months.
Watering infrequently. It is the deeply rooted grass blades that survive longer. To encourage deep root growth water for an hour once week rather than 10 minutes every day. If the soil is dry under the root there is no where for the root to expand to. The deeper the moist soil, the farther down the root will grow. The moisture from below the surface will rise, as the top soil starts to dry.
These steps will allow you to have the best looking and best growing grass in your neighborhood. Keeping your grass green can be easy with just a little information.