Commercial Pest Control Services
Bringing Nashville, Smyrna, and Middle Tennessee Professional Services & Professional Results!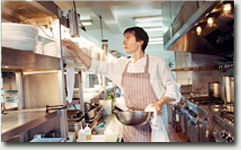 The first impression with your customers can be a lasting one. Nashville is a tourist town with visitors from all over the world. These customers will check your reviews online before visiting. Dirty bathrooms, dead, or worse- live bugs, can ruin your reputation instantly regardless if they are first timers or longstanding regulars. The success of your business is built upon creating a relationship with your clientele. You don't want a pest problem to tarnish what potential customers or current customers think of your business. Absolute Pest Control will remove any infestations you have and prevent them from returning with quality maintenance plans.
Statistics reveal that 95% of all customers will not verbally register a complaint, like a bug sighting, they just will not come back. To make matters worse, those same people will tell an average of 10 people each about what they witnessed in your business. For restaurants, not only are pest potentially harmful — pest sightings could mean citations, fines, or even a shut down by your local health department.
Don't let this happen to your business! Give us a call if you think you might have a pest problem!