Pest control for realt estate agents is more important that what meets the eye. You are working hard to get your listings, hold open houses and selling homes. The last thing you need is to be held up at closing by an infestation you never knew about. Why wait until that moment to take care of a problem that may hold up a closing? At Absolute Pest Control we offer free pre-inspections. That means no surprises and no hold ups.
Pests can be a real serious problem for home owners, buyers, or sellers. Our pre-inspection provides an accurate report that will allow you to discuss proper steps needed to resolve a problem or educate the home buyer about the problems that may be in their future. The pre-inspection is not the same thing as a wdo or wdi inspection letter. That is a different inspection that may be required depending on the state guidelines.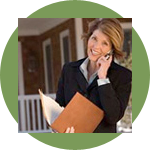 Home buyers can be hesitant to purchase an older with the thought of a possible termite infestation brewing under the surface. The best way to reassure your buyer is with proof that there is not an issue. Or if there is a termite problem, allow the buyer to make an educated decision.
Call Absolute Pest Control to be your partner in Real Estate Pest Control. We provide services throughout Middle Tennessee. With 2 offices to serve you (one in Nashville and one in Smyrna), we offer quick and accurate services.
615-220-1933 or 615-650-0070