Pests like ants and spiders are not only annoying, they can pose a serious risk to your property and your family's health. Absolute Pest Control eliminates any bugs currently in your home and then we create a barrier on the outside of your home to control future unwanted invaders. We use traditional methods and eco-friendly, green treatments.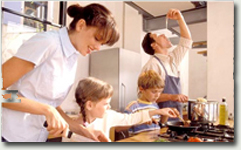 Pests live naturally outside your home without any intention of bothering you or your family. When they come from the outside to enter your home, it is because there is something luring them there. It could be something simple like crumble on your counter or the dripping water from your air conditioning unit. Using Absolute Pest Control's perimeter defense system targets any areas that may potentially be a problem. Your 1st initial service will combine the interior and exterior barrier againt unwanted insects, pests, spiders, etc. This, combined with a regular monthly outside treatment, creates the ultimate defense system against unwanted pests. You are no longer inconvenienced with scheduling or waiting for your technician to arrive and complete your service. BUT, anytime an inside is needed, contact us and we will treat the inside free.
While we encourage the Perimeter Program it does not work in every situation; so we do offer a variety of services and package options to fit our customers needs. Ask about the Platinum Package, our biggest level of defense, today.
Absolute Pest Control is the best value for your dollar. Give us a call if you think you might have a pest problem!
[WD_Button id=15152]
Looking for COUPONS?