Mosquito Repellent Plants – Keeping Mosquitos Away – The Updated List
Citronella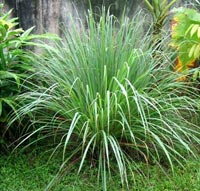 Citronella is a medium sized clumping bush that looks nice planted around your patio. Because Citronella is the most common ingredient in most traditional mosquito repellent candles. Traditionally Citronella grows where there is no frost. But, there are several ways to grow it here in Middle Tennessee; planters and covering during the frost season. One thing that people like about these plants is that they are very low maintenance. Grow in full sun in an area with good drainage. When you are at the nursery buying your citronella plants, buy the true varieties. Plants may be marketed as 'citronella scented', but these do not have the mosquito repelling ability of true citronella. This is a personal favorite at Absolute Pest Control!
Horsemint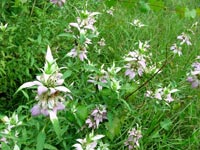 Horsemint is a perennial plant that provides a scent that is similar to Citronella. These mosquito repellent plants are fast growing and drought resistant. Salty weather does not bother these plants and they can be found near the ocean. They grow well in Middle Tennessee. During Spring and Fall the Horsemint can be divided into small groups to cover more areas. Bees and butterflies are attracted to this home-based mosquito remedy  so take caution if you are allergic.
Marigolds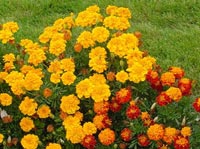 Marigolds are a beautiful annuals that are often used as border plants. They are effective mosquito repellent plants in the Nashville area. Their strong smell is disliked by many gardeners and mosquitos. When you use a mosquito repellent that uses Pyrethrum, it is actually derived from Marigolds. These inexpensive plant will reseed itself in favorable conditions. Divide the Marigolds similar to dividing the Horsemint, will decrease dead plants. Planting Marigolds near tomato plants will help reduce tomato plant bugs. We do not recommend using Marigolds on patio tables as they also attract wasps.
Lavender
Have you ever noticed that lavender plants aren't bothered by critters and pests? The truth is that it's because of their fragrance, which comes from its essential oils that are found on the leaves of the plant. There are some heated discussions on whether or not the lavender oil hinders a mosquito's ability to smell. Most people can keep a lavender plant alive. It is very tough and drought-resistant once established. And needs full sun and good drainage. Warmer climates are best, but with some extra care, it will prosper.
Contact Us
Absolute Pest Control is dedicated to making your home safe for you family. If you have a question about pests or any other pest problem, please call us at 615-220-1933 or click HERE to email us. We service most of Middle Tennessee including Smyrna, Murfreesboro, and LaVergne.