Bed Bugs – Nashville Area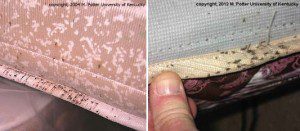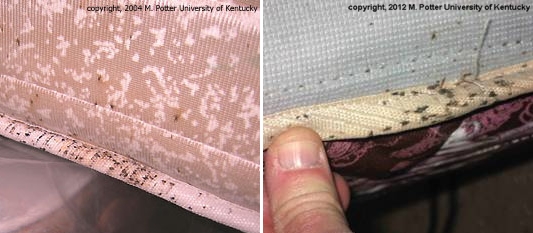 The news has been quiet lately about bed bugs in the Nashville Area. No headlines warning of hotel infestations, homes overcome with bed bugs, nursing homes, etc. Does that mean the problem is gone? No! The problem is still here and in some areas the problem has increased. Bed bugs are everywhere that humans are.
Here are some startling facts about where infections were most reported:
Nursing homes – 58 percent (46 percent in 2013)
Office buildings – 45 percent (36 percent in 2013)
Schools and day care centers – 43 percent (41 percent in 2013)
Hospitals – 36 percent (33 percent in 2013)
Doctor's offices/outpatient facilities – 33 percent (26 percent in 2013)
Transportation (train/bus/taxi) – 29 percent (21 percent in 2013)
Retail stores – 20 percent (15 percent in 2013)
Movie theaters – 16 percent (10 percent in 2013)
Notice what's missing from the list? Hotels! Bed bugs aren't just from traveling to hotels. They are found in all spaces. Some, obviously more than others! And, some strange places too. For example; dance clubs, bathroom vents, funeral homes and more. There are still bed bugs in hotels and motels, we are not saying not to be cautious but that bed bugs are in more places than people think!
Before traveling check this website* for reported hotels: HERE
Review this article on how to stay safe when traveling: HERE
Bed bugs aren't the end of the word. If you find them, treatment is required. Bed bugs won't go away by themselves. We offer state-of-the-art treatment plans that actually work.
If any pest is bothering your family, home, yard or business, we are highly trained to make sure that your treated fairly, with the best products for the situation and that you are happy with the service you received. At Absolute Pest Control, we service all of Middle Tennessee and parts of Kentucky. Many residents is Smyrna, Murfreesboro, Nashville, Brentwood, Franklin and Lebanon Tennessee are serviced by Absolute Pest Control. Please call us for your next appointment today at 615-220-1933. If you prefer email, click here for our contact form!
*Absolute Pest Control does not solely recommend this site or have any partnership with them.
Reference Website Pest World.org