Get Your Backyard Beautiful!
It's that time of year again. The weather is warm. The days are longer. Last year we posted this article about sprucing up the backyard. Since our work is now done… we thought we would share it again to help someone else!
Backyard Paradise List: 
First, trim or prune all bushes, shrubs, and trees that are on our property. If this is more work than you or your family can handle, ask some neighborhood kids to help or call your local landscaping company for quotes. The best part about hiring the neighborhood youngsters is that they get to make a little spending money and have pride in their accomplishment (as they will see it on a regular basis).
Second, pressure wash the concrete patio. We already own a pressure washer, so that reduces the costs! To do this correctly, remove all patio furniture, grills, rugs, and other backyard living accessories. Our pressure washer is electric. Electric pressure washers are perfect for small projects around the house. This type hooks up to the water spigot and then is plugged into an electrical outlet. The water is pushed out the spray nozzle when the trigger is pressed. Make sure your movements are even and symmetrical or your finished patio may look like a snowflake cut out from kindergarten. When this is complete return your patio furniture and accessories to their desired locations. This is a great time to redesign the furniture placement in your backyard paradise.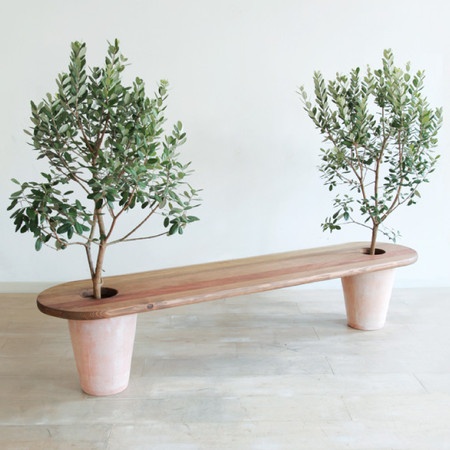 Third, replace and repair stuff. If you have not thrown out old or broken items from the last season, this is the time to do it. You test hoses for leaks, patio cushions for mold or tears, and replace those citronella candles. These things do not need to be replaced each year. Test your grill. If you have a propane fueled grill, get your propane topped off. Or buy a gauge to monitor your gas levels. Sit on all chairs, benches, or swings to verify they are still safe. Your backyard paradise area should be of comfort and not a liability for injury.
Fourth, get creative. Your backyard retreat is your backyard paradise. You can personalize it to reflect your personal style and imagination. While perusing Pinterest, I found this bench idea. It is different, easy (even for a beginner), adds foliage with it being in the way, and none of your neighbors have even thought of this! The image has a very nice wooden bench seat. This, however, can be replaced with the wood of choice for your needs. We recommend using a sealant to make sure your piece lasts for more than one season. Would you love to have one or two of these for your backyard paradise?
Backyard Paradise Maintenance:
Maintenance: the word that just means work! Maintaining your backyard retreat area does not have to be a big chore. Routine upkeep on a weekly basis will allow you time to enjoy your backyard retreat. For our family, we will need to pick a Saturday to get our backyard living space cleaned, repaired, and ready to grill! Summer is just a month away and the grill has already been lit!
Contact us
Absolute Pest Control is dedicated to making your home safe for you family. If you have a question about pests or any other pest problem, please call us at 615-220-1933 or click HERE to email us.