Bed Bugs, Costs and Sleep Issues
Having a bed bug infestation will effect several different aspects of your life. The big one can often be your long term sleep. Other areas that may be an issue can be cost, embarrassment, overcoming the "dirty house" reputation and/or future travel doubt. This article will offer some helpful ideas to increase your comfort after a bed bug invasion.
The first step after finding out you have a bed bug problem is get treatment. Not all treatment companies are the same. Always ask for recommendations, check local BBB website or other reputable directories. When speaking to the companies ask what their services include. One really important question people don't ask but should is what happens if the bed bug return? Is that covered in the initial fees? Will I incur additional costs for treatment if it does not work the first time? This is important because bed bugs can be difficult to treat. You do not want unexpected add on fees if they bed bugs return. We stand behind our treatment and offer a 100% Money Back Guarantee. Our trained technicians will rid your home of unwanted pests including bed bugs!

Other hidden costs can be things like new beds. Bed bugs love to hide in the creases and seam of your mattress and box springs. If your mattress and box spring is old, you may be better off purchasing a new queen mattress and a high quality bed bug encasement. Encasement botcher because you want a full level of protection. The cheap ones may rip or tear, offering easy entrance to the bed bugs. Also, you want want an encasement that is made of a material that won't bother you as you sleep. Think noise or scratchy materials.
The treatment of a bed bug infestation will bring a pest control company and their technicians to your home. many neighbors will be inquiring about what you bug has taken your home hostage. It is normal to question because they are thinking about if it will become a problem fr them as feel. Most neighbors understand bed bugs are not there because you have a "dirty" home. If you have spiders, snakes, ants or other common pest, they need to be on the look out too. Additionally, what if you just gave your neighbor the old mattress from your kids room? Oh boy, the bed bugs would be something they need to know about stat! Bed bugs do not target "dirty" homes. They are brought into the home most often by traveling. Don't be too embarrassed to get treatment.
Some people have been highly traumatized by the infestation of ned bugs and have compared their feelings afterward similar to those who have been victim to a crime. The anxiety and stress can be labeled as PTSD. Without quality sleep people can be agitated and very stressed. Don't fall victim to this! Your stress during the day can lead to problems in your job performance, then following up with an over active mind during the time when you should be sleeping and you will have long term sleep pattern issues. If you continue to have issues after getting treatment, please consult a professional to help you get through this problem. And, if the problem brings distress to your children, explain that the bugs are gone and that they won't return. Make sure you do not add stress to your children. Their sleep patterns are developed when they are young. We don't want to increase sleeping issues to affect their adult life.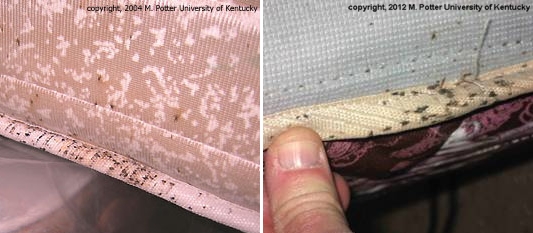 Will you will be able to travel comfortably again? That is up to you. Be proactive in reading reviews of the hotels you will be staying. Check several websites for reviews and look back more than month. Most people don't realize they have a problem immediately. Read our article that has what to look for when you stay in a hotel and you have checked into your room: here! Here is one site that travelers can check to see about bed bug infections: www.bedbugregistry.com.* Travel alone won't bring a new infestation, so don't let an infestation stop you from seeing the world. Some people purchase an RV or Trailer to travel to reduce their chances of getting infested by bed bugs. Remember, there is a bed there too. Always think about your choices and how they will effect your future.
If any pest is bothering your family, home, yard or business, we are highly trained to make sure that your treated fairly, with the best products for the situation and that you are happy with the service you received. At Absolute Pest Control we service all of Middle Tennessee and parts of Kentucky. Many residents is Smyrna, Murfreesboro, Nashville, Brentwood, Franklin and Lebanon Tennessee are serviced by Absolute Pest Control. Please call us for your next appointment today at 615-220-1933. If you prefer email, click here for our contact form!
*Absolute Pest Control does not solely recommend this site or have any partnership with them.