Tag Archives:
Bed Bugs Middle Tennessee
How does one start preparing for bedbug treatment? It may seem daunting after getting told your have a bedbug problem or infestation. However, if you break it up into smaller steps, you'll be ready in no time. See the steps below and contact us if you have any further questions.
Step 1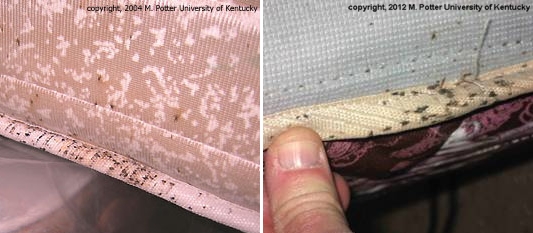 Preparing for bedbug treatment starts with your bed. Next, remove all of the bedding. And, remove anything stored under the bed. You need to eliminate places for the bedbugs to hide.
Although, you have removed everything under your bed, you will leave it in the room to be treated. However, moving items occupied by bedbugs furthers the infestation. And, it can create more problems and cost for you.
Step 2
Next up in preparing for bedbug treatment is the closet. Similar to cleaning out under the bed, you need to clean out the closet. Be careful to keep the affected items in the room(s) being treated. This is a good time to reduce some of your unneeded clothing, shoes, etc. And, it will leave less places for pests to hide. The trash receptacle must be kept a far distance to the house until pickup time.
Step 3
Last in preparing for bedbug treatment is to make sure there are no further piles or items in the hallway outside the bedroom. Don't give the bedbugs another safe haven during treatment. Keep the area clean for trained technicians. And, leave halls clean of debris for safety.
CONTACT US
If you have bugs, bugging you, call us to help make your home safe again.
Absolute Pest Control is dedicated to making your home safe. If you have a question about pests or any other pest problem, please call us at 615-220-1933 or click HERE to email us. We service most of Middle Tennessee including Smyrna, Murfreesboro, and LaVergne.
Our Commercial Bed Bug Removal Service
Here at Absolute Pest Control, we know how much of a nuisance bed bugs can be. Their bites are itchy and annoying and can drive customers and tenants away. But don't worry! We specialize in the prevention and extermination of bed bug infestations in your commercial property.
Whether you own a hotel or apartment complex, we can help you get rid of your bed bug problem with our commercial bed bug removal services.
Prevention
We inspect your property on a regular basis to make sure there are no bed bug infestations. We work hard to keep your property bed bug-free so you don't have to worry about losing precious time and resources.
Extermination
We use the latest technology and methods, including our steam-cleaning bed bug removal service, to make sure your property is ridden of bed bugs should an infestation occur. Our staff is properly trained and able to take care of the problem quickly and with as little interruption to your business as possible.
If you suspect your property is infested with bed bugs, call us at (615)220-1933 or click here to set up an appointment or inspection schedule for our commercial bed bug removal services today.