Monthly Archives:
July 2019
1) We are familiar with Local Pest Control
Hiring local pest control companies is smart because they are familiar with the same pests that may be bothering you. Chances are, they may have had a similar problem as you. While bees can be a nuisance, they are very important for human's food. Some non local companies will eradicate all bugs, bees, etc instead of ridding the home of dangerous or high level nuisance pests. We also are familiar with poisonous versus annoying local spiders.
2) We can help you fast
Local pest control companies can come to your rescue, fast! If your pest control company is local t you, they will have many trucks out every day in your area. If there is an emergency or highly timely, their technicians can quickly come to your home or business.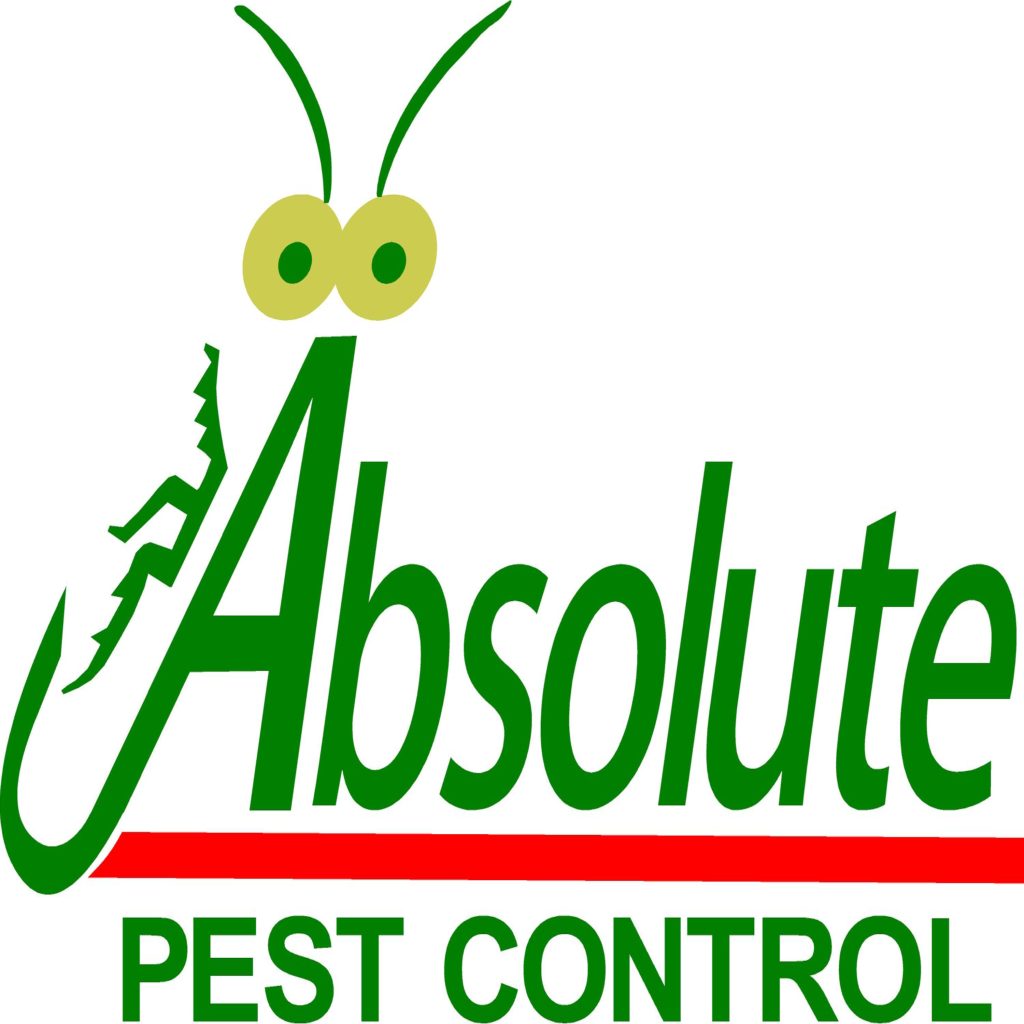 3) We put a face to a name
Using local companies allows you to help your community thrive. You may run into the owner in a grocery store, school, church, gym, park, etc. They help create jobs for local people and pay local taxes. This is beneficial for the community. Using local pest control companies does not buy a huge company president a second home or new sports car.
4) We can handle big jobs
You may want to handle small level pest control jobs around the house yourself but, what if you get a full blown infestation? Local pest control companies can help you take care of your home or apartment or business for you. There will no worries of did you use the right chemicals, the correct amount, will it harm your children or pets?
Contact Us
At Absolute Pest Control, we want to offer you the best in pest control services. Our highly skilled and trained technicians provide excellent customer service while keeping your home pest free. We ask the right questions to make sure we provide the best service in the industry. You have our word! And, our money back guarantee!
If you have a question about pests or any other pest problem, please call us at 615-220-1933 or click HERE to email us. We service most of Middle Tennessee including Smyrna, Murfreesboro, and LaVergne.
Get Your Backyard Beautiful!
It's that time of year again. The weather is warm. The days are longer. Last year we posted this article about sprucing up the backyard. Since our work is now done… we thought we would share it again to help someone else!
Backyard Paradise List: 
First, trim or prune all bushes, shrubs, and trees that are on our property. If this is more work than you or your family can handle, ask some neighborhood kids to help or call your local landscaping company for quotes. The best part about hiring the neighborhood youngsters is that they get to make a little spending money and have pride in their accomplishment (as they will see it on a regular basis).
Second, pressure wash the concrete patio. We already own a pressure washer, so that reduces the costs! To do this correctly, remove all patio furniture, grills, rugs, and other backyard living accessories. Our pressure washer is electric. Electric pressure washers are perfect for small projects around the house. This type hooks up to the water spigot and then is plugged into an electrical outlet. The water is pushed out the spray nozzle when the trigger is pressed. Make sure your movements are even and symmetrical or your finished patio may look like a snowflake cut out from kindergarten. When this is complete return your patio furniture and accessories to their desired locations. This is a great time to redesign the furniture placement in your backyard paradise.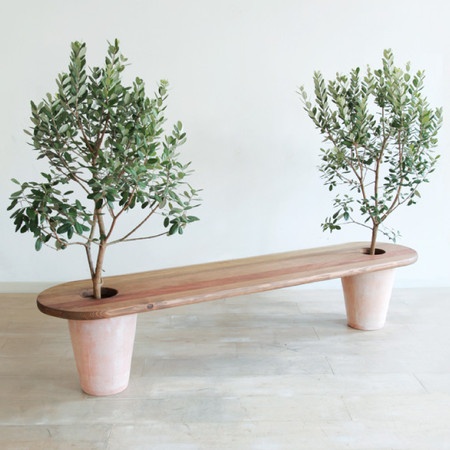 Third, replace and repair stuff. If you have not thrown out old or broken items from the last season, this is the time to do it. You test hoses for leaks, patio cushions for mold or tears, and replace those citronella candles. These things do not need to be replaced each year. Test your grill. If you have a propane fueled grill, get your propane topped off. Or buy a gauge to monitor your gas levels. Sit on all chairs, benches, or swings to verify they are still safe. Your backyard paradise area should be of comfort and not a liability for injury.
Fourth, get creative. Your backyard retreat is your backyard paradise. You can personalize it to reflect your personal style and imagination. While perusing Pinterest, I found this bench idea. It is different, easy (even for a beginner), adds foliage with it being in the way, and none of your neighbors have even thought of this! The image has a very nice wooden bench seat. This, however, can be replaced with the wood of choice for your needs. We recommend using a sealant to make sure your piece lasts for more than one season. Would you love to have one or two of these for your backyard paradise?
Backyard Paradise Maintenance:
Maintenance: the word that just means work! Maintaining your backyard retreat area does not have to be a big chore. Routine upkeep on a weekly basis will allow you time to enjoy your backyard retreat. For our family, we will need to pick a Saturday to get our backyard living space cleaned, repaired, and ready to grill! Summer is just a month away and the grill has already been lit!
Contact us
Absolute Pest Control is dedicated to making your home safe for you family. If you have a question about pests or any other pest problem, please call us at 615-220-1933 or click HERE to email us.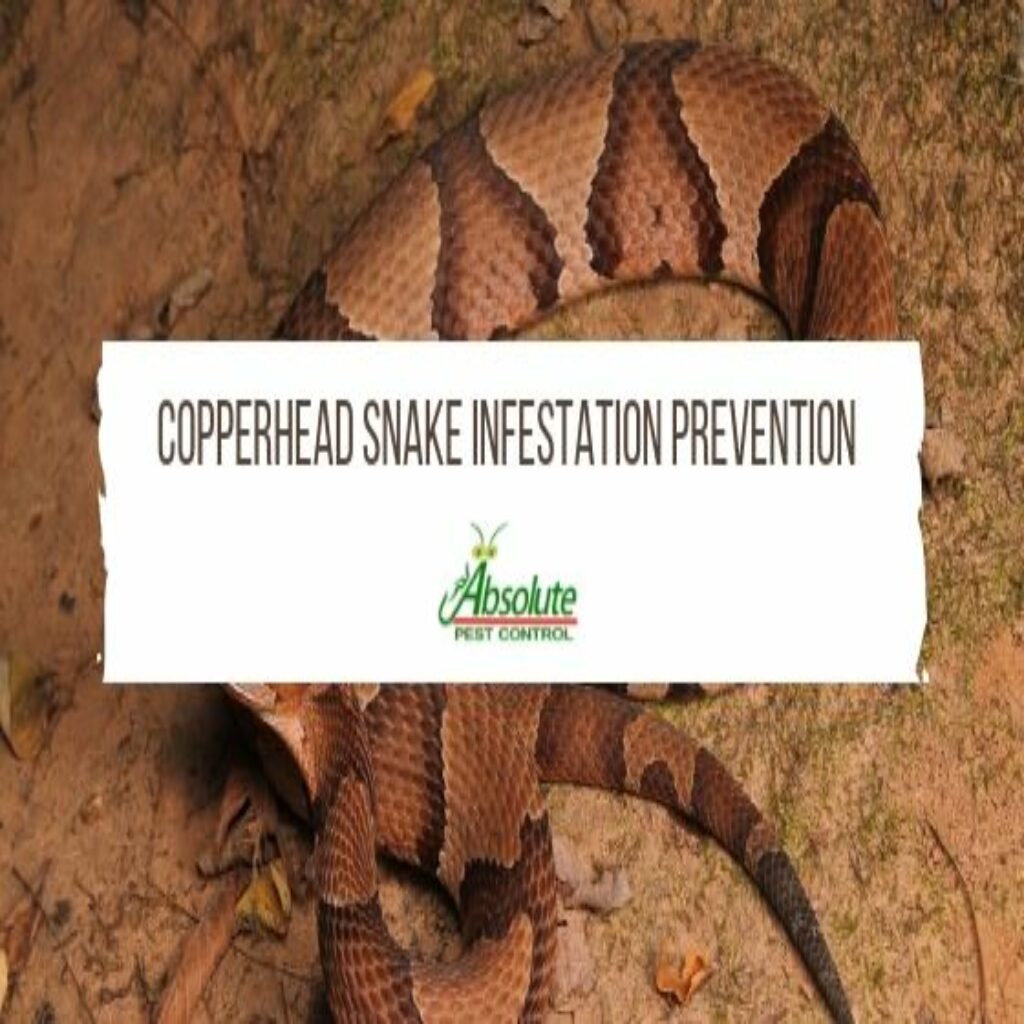 Copperhead Snake Overview
Who wants a copperhead snake in or around their home? No one I know. These venomous and very dangerous predators have the nicknamed pit vipers. You can identify pit vipers by rear curving snake fangs. They prefer to live in wooded areas with access to water. Although the copperhead has distinctive patterns, their skin can vary in shades to best camouflage themselves to their environment. Even baby copperheads will bite; they are identifiable by their yellow tipped tail. Once piercing the skin, the fangs allow the flow of venom into their prey. Statistics show the copperhead snake produces the most snake bites in year.
Preventing a copperhead from sharing your yard
With their ability to blend into wooded and rocky areas, you must maintain a debris free area to best prevent a copperhead from sharing your yard. Best practices include clearing all bushy vegetation in 15 foot perimeter around your home. Clear leave piles and old tree debris. Keep your garden clear and dispose of rotting fruit or fallen plants. Replace unneeded vegetation with garden mulch or small gravel. If you are doing work in your garden or yard, especially moving logs, rocks or other trash, make sure you have rubber boots, thick gloves, and long pants. This will reduce the chance of the snake fangs from puncturing your skin. If you come across a copperhead snake while doing yard work, back away slowly. These snakes bite as a last result when not feeding.
What to do if you or your pet is bitten by a copperhead
The most important thing is to stay calm. The more agitated you are the faster the venom from the copperhead pumps through your body. It is also important to be able to identify what type of snake bite you. By all means don't go back for more but just take a good look at it so the hospital will give you the best care possible (even identifying if it has that yellow tail to categorize it as one of the baby copperheads). Therefore, use a tourniquet to block the follow of venom near the mark of the snake fangs if there are multiple bite wounds. After that, have someone else drive you to the hospital; immediately.
If it is your pet, pick the pet up and drive him or her to the veterinarian. Do not apply ice to the wound. Do not try and suck out the venom. That would waste time that you need to get to the hospital.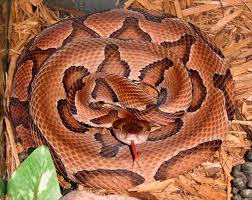 In conclusion, most adults are bitten by trying to kill a copperhead snake. Many small children and animals are bitten when they curiously mess with one, especially baby copperheads.
Contact us
Absolute Pest Control is dedicated to making your home safe for you family. If you have a question about pests or any other pest problem, please call us at 615-220-1933 or click HERE to email us.